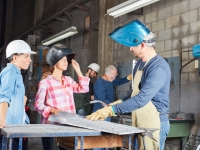 Workforce Ready: A Training Program for Entry-Level Workers
Employers across the North Country are reporting difficulty finding entry-level employees with adequate workforce readiness. A basic understanding of workplace expectations is missing in areas such as the importance of regular attendance, work ethic, team work, appropriate cell phone use, respect for company property, and proper work attire.
And many workers don't feel they have the proper training in effective problem-solving, interpersonal communications, time- and stress-management, or conflict resolution.
CITEC is offering an eight-hour training session to help put employers and employees on the same page, to see if it can help entry level workers stay in their jobs longer. This training will cover general workplace expectations as well as effective problem solving, communication, time management, conflict resolution and more in full day, interactive, in-person events.
There is no cost to participate in this training. However, we will be requesting follow-up information. If you are an employer, we will be asking for three and six month retention data. Individuals will be asked for employment information at three and six months.